Since its foundation during the fetal period of the Korean economy in the 1950s,
Asia Paper has continued to grow as an industry leader for the 60 years, hand in hand with its customers.
We have opened up the future of the country's paper industry through realizing innovation
and meeting challenges in a way that breaks through the paradigms of the past every step of the way.
We have streamlined our paper making facilities, vertically integrated through acquisitions of corrugated box makers,
and expanded our business through mergers and acquisitions.
Asia Paper, a solid leader in the linerboard industry, is maximizing synergy and contributing to both corporate growth
and advancement of the national economy. Its subsidiaries in paper making and corrugated board making include
Kyungsan Paper, a leading example of efficient facility operation,
Cheil Industry, the leader of domestic packaging industry demonstrating consistent growth,
Yujin Fiber Board, a leading player in the corrugated box industry in the capital region,
A-Pack, a specialized corrugated box manufacturer in the Southern region,
and AP recycling, a promising, leading environment-friendly resources recycling company.
The fundamentals of our growth lie in our business philosophies of "a focus on technology" to create cutting-edge technology and top-quality products, "customer-orientation" to give the best in services to customers, and "humanism" as we build trust between labor and management and work to protect the environment. This desire to give back to our customers has allowed us to become the industry's leading paper maker and prioritize the conservation of nature.
Asia Paper will continue to create sustainable business by securing stable revenue streams and finding and executing efficient investments. To this end, we are committed to investing in forward-moving industries and strengthening the competitiveness of our products, as well as focusing on the basics.
Through audacious challenges and substantial investment, Asia Paper has become a leader in Korea's papermaking industry and a trustworthy companion contributing to society as it creates a more expansive industry ecosystem. This is the mission of all employees at Asia Paper.
Thank you.
Seunghwan Yu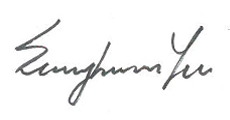 Hyuntak Lee
CEO of ASIA PAPER MFG. CO., LTD